Bat Exclusion Services, When You Need It!
Professional Bat Removal Services
Bats are nature's version of pest control and one bat can consume up to 1,000 mosquitoes in an hour.   Unfortunately, bats will sometimes take up residence in your attic and only need a 1/4″ opening in a gable vent, a roof opening, or even an area where caulking was not applied properly.  If you hear scratching in the ceiling, chirping noises in the attic, or see droppings in your attic, there's a good chance you have bats. Call (616) 836-4255 today and we'll start the process to "get rid of your bats".
Identification Of Bats
There are many different types of bats in Michigan and the northeastern United States, but the big brown bat and little brown bats are the ones you'll find in your attic. Brown bats are one of the most common bats found in or around buildings and homes.
Each night, these bats will consume nearly three times their body weight in insects. Every night, one brown bat consumes approximately 6,000 insects.  Bats are the only flying mammals on the planet. Bats can fit through some of the tiniest gaps, as small as 1/2″. They are vertebrates, but their bodies are mostly made of cartilage. Their hands, with webbing in between their fingers, resemble wings. Bats cannot fly right through a small opening in your attic like a bird, so they must first land on a flat surface and then crawl in.
Habitat Of Bats
Different bat species are found in the United States, Puerto Rico, and the US Virgin Islands. Bats can live in almost any environment. Deserts, woodlands, suburban suburbs, caves, and cities are all home to them. Bats use a variety of structures to make their homes (roosts). They can hide in trees, caves, building cracks, bridges, and even a home's attic. Bats prefer warmer temperatures and have a variety of strategies for dealing with the cold. Some bat species, such as the big brown bat and the eastern red bat, hibernate in attics, caves, and trees to survive the winter. On warm winter days, they can be seen flying around. Many bats migrate to warmer climates or nearby buildings to survive cold weather.
Signs Of Bats In The Home
Urine stains on the attic walls
Droppings piled up in one corner of the attic or near the entrance.
Seeing bats, whether alive or dead
Droppings on the insulation in the attic
Your attic has a strong ammonia odor, which is the result of excrement.
Hearing slight squeaking or scratching noises
Why Have Bats Invaded Your Attic?
Bats usually gain access to attics through cracks and crevices in roofing materials. Bats can easily tuck themselves into even the tiniest of gaps due to their small size. They can fit through gaps as small as 6 millimeters in diameter, which is about the size of a dime. Bats will roost in attics and between walls once inside the structure.
Many bat-infested homeowners will inspect their attics, expecting to find bats hanging from the rafters. In most cases, their precise location inside the home is much more challenging to determine, as they are more likely to be found in soffits, walls, and beneath the insulation.
Bat Damage To The Home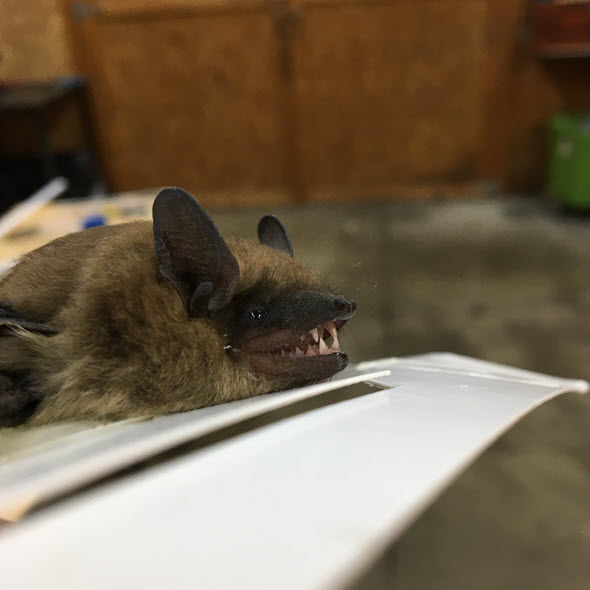 Bats can cause a wide range of problems, from physical and structural damage to health and safety issues. Due to their droppings or guano left in your chimney, walls, and attic, having bats in your house can cause a strong, unpleasant odor. If you have a bat colony in your home, you can expect at least 30 to 40 bats to leave guano every day. Guano accumulation causes an unpleasant odor to spread throughout your home, as well as a health risk that can be fatal.
Some of the problems that bats can cause in your home:
Insulation and Wiring Damage: Bats can also cause damage to your home's insulation and wiring. These nocturnal creatures can chew through your walls, insulation, and electrical wiring, causing severe damage. Your family's health and safety may be jeopardized due to the increased exposure to drafts, possible short circuits, and other electrical issues. Due to a breach in your insulation, particularly in your roof and attic, it can also result in higher utility bills.
Roof Damage: Bat's create access points that could result in roof damage. Broken shingles, chewed siding, or damaged vents are all results of bat damage.
Diseases Carried By Bats
Bat guano is full of bacteria, rabies, and fungus spores that can cause histoplasmosis. This infection can cause severe respiratory problems, fatigue, cough, and fever, and it can even be fatal in people with weakened immune systems. Although being bitten by a bat is uncommon, a bat-caused wound requires immediate medical attention. If you suspect bats in your attic or elsewhere in your home, contact trained wildlife professional to inspect the premises and ensure these animals don't spread disease to you and your family.
Bat Control & Prevention
Bats can be difficult to get rid of once they've entered your home. To get rid of bats without risking bites or other problems, you'll need a wildlife removal technician's specialized skills, tools, and knowledge.  The most effective way to get rid of bats is to install exclusion devices. These devices allow the bats to exit the attic but prevent re-entry. The installation of exclusion devices is a tricky task and must be done after all other entry points have been sealed.
That is why we suggest hiring professional help to ensure the safety of the homeowner and the animal.  Bat removal and control specialists from Best Way Animal Removal have the tools and skills to get into those hard-to-reach places where bats will roost. Our experts will treat your home as if it were their own, searching for bat hiding places and then removing them following local regulations.
Bat Removal Process
We conduct a thorough examination of the building. This is done to determine exactly how the bats get in and out.

Next, we examine the attic and identify the bat species. Because different bats have different hibernation and birthing seasons, this is important.
After we have learned everything we can about the bats, we install an exclusion device and seal up all other entry points.
After all the bats are out of the attic, the exclusion device is removed, and the final entry point is sealed up.
Our wildlife removal technicians will do a damage inspection and alert the homeowner to any areas needing repairs.
Get The Bats Removed Today
Best Way Animal Removal in Holland, Michigan, is here to remove all bats from your home. Our wildlife removal technicians provide chemical-free and humane bat control services. Having bats in your attic is a problem that you should never allow to get out of hand. Contact us right away to limit bat damage in your home.
Areas Serviced For Humane Bat Removal & Prevention
Allegan County, MI
Allegan, Douglas, Fennville, Holland, Hopkins, Martin, Otsego, Plainwell, Saugatuck, South Haven, Wayland
Kent County, MI
Byron Center, Caledonia, Casnovia, Cedar Springs, Comstock Park, Cutlerville, East Grand Rapids, Forest Hills, Grand Rapids, Grandville, Kent City, Kentwood, Lowell, Northview, Rockford, Sand Lake, Sparta, Walker, Wyoming
Muskegon County, MI
Casnovia, Fruitport, Lakewood Club, Montague, Muskegon, Muskegon Heights, North Muskegon, Norton Shores, Ravenna, Roosevelt Park, Twin Lake, Whitehall, Wolf Lake
Ottawa County, MI
Allendale, Beechwood, Coopersville, Ferrysburg, Grand Haven, Holland, Hudsonville, Jenison, Spring Lake, Zeeland