Animal Removal Marne, MI
Are you looking for Marne wildlife control and removal services? When it comes to animals in the attic, nuisance wildlife outside of your home or any other wildlife issue we can help. We provide professional solutions from animal trapping and wildlife exclusion to damage repair services and feces/ guano clean up.
Call Us!
The removal process starts with a phone call. We will gather information that allows us to customize a wildlife removal plan.
Home Inspection
We begin the with a complete home inspection to find animal entry points, potentially vulnerable areas and evidence such as feces or paw prints..
Removal
After we gather intel, we then set up traps to humanely get rid of nuisance animals causing damages or that have recently moved into your home.
Repair & Restoration
Once the animals have been removed will access the  damages and provide full services for clean up, repair, and animal exclusion services to keep them out for good.
Humane Wildlife Control Marne, MI
Best Way Animal Removal is based in Holland, Michigan and serves the needs of residents and business owners in West Michigan for all your wildlife animal control & removal needs in Ottawa County.
Our services include identification of your wildlife guest, removal (including dead animal removal), repair of damages, odor removal, and re-entry prevention. We use plastic box traps to humanely remove pests like moles, bats, raccoons, skunks, opossums, squirrels, chipmunks, mice, rats, wood chucks, and other nuisance animals.
Best Way Animal Removal is owned & operated by Jack Waterway who has been an avid trapper since 1975.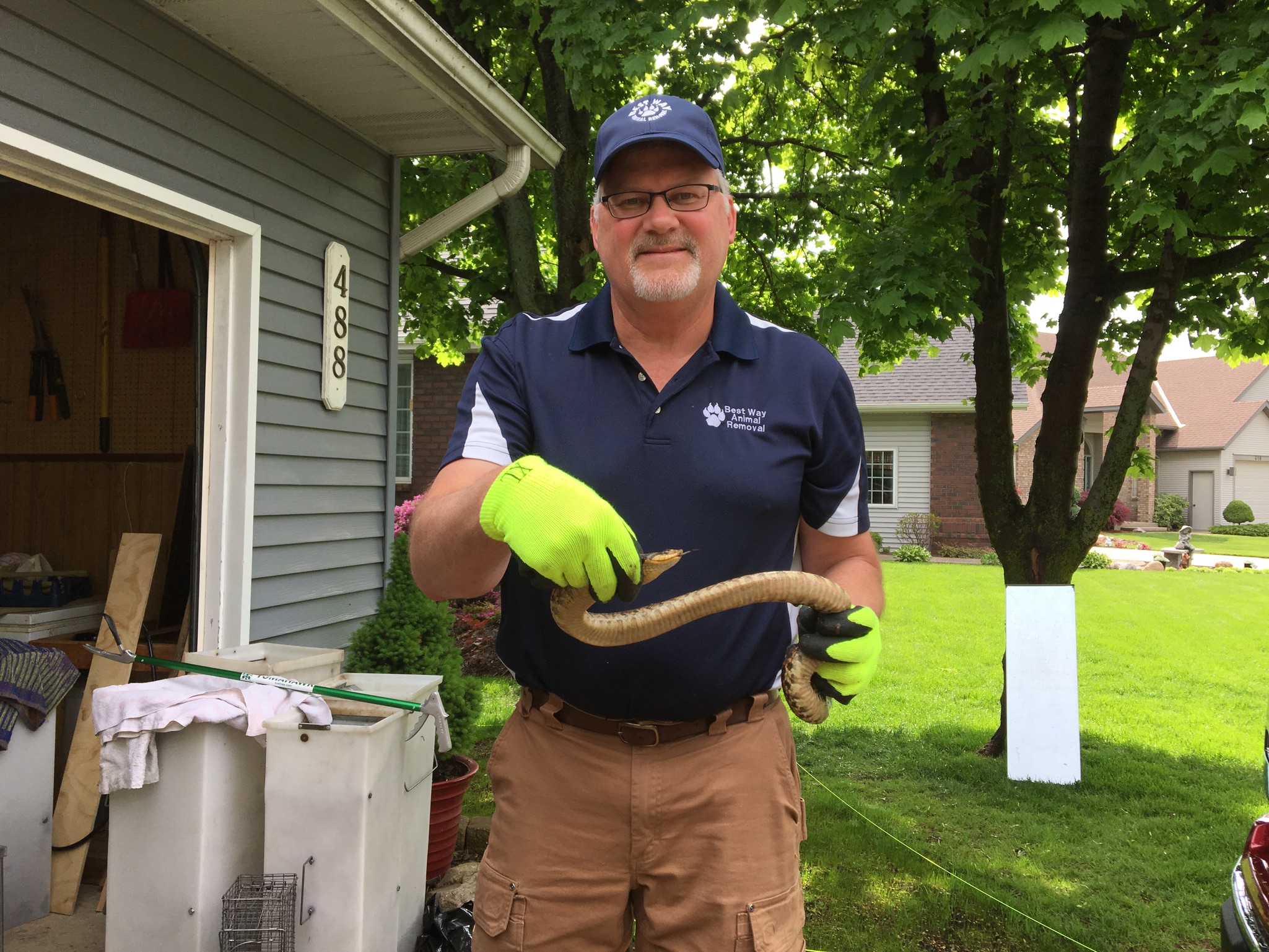 Bat Removal Marne, MI
How to Get Rid Of Bats Process
We use a process known as "Bat Exclusion" which is a one-way device that allows bats to exit but prevents them from re-entering.  This allows us to remove the bats in a safe & humane manner.
First, we'll determine where the bats are getting in.  It doesn't take much more than a 1/4″ gap anywhere around your home or building.
Second, we'll seal off other areas of your structure which could provide an alternative entry point.   Chimney flashings, fascia board issues, and gaps around gables are the first we check.  Bats leave lots of dropping and oils from their body will sometimes stain their entry path into your home.
Third, we'll install a one-way exit door so the bats can easily leave but not return.
Last, we'll clean-up all of the droppings in the attic and replace insulation as required.
Squirrel Removal Marne, MI
Squirrel Control Process
A rodent removal specialist is sent to your home to inspect the property and identify entry points, what is attracting the animals, and form a removal plan.
Depending on your specific infestation, the Best Way Animal Removal technician will either set live traps or install exclusion devices that allow the rodents to exit but prevent re-entry.
After the rodents have been completely removed from the home, all entry points will be sealed.
Finally, our wild animal removal expert will advise on damage needing repairs, options for clean-up, and exclusion devices that will deter future infestations.
Squirrels in The Attic?
Our Michigan squirrel removal experts at Best Way Animal Removal provide the best possible service to our customers. We'll take care of any squirrel issues you have and make sure your home is squirrel-free. Contact one of our wildlife removal experts today for assistance with Holland, MI squirrel problems.
Mole Control Marne MI
Keeping moles out of gardens and yards requires altering the landscape to make it inhospitable to them. This can be accomplished by removing food sources in the soil, such as worms, grubs, and larvae, or compacting the soil with a heavy roller to make digging difficult.
Moles can also be kept out of garden plots by burying fencing at least a foot deep in the ground. If the moles remain in the yard after removing grubs, installing humane mole traps is the only other option. Traps will best set strategically around your home in order to curb the mole infestation.
Once the moles have been trapped, our wildlife technicians will relocate the animals far away from your home.
Our Mole Trapping Process
Look for mole entry points in the lawn, landscape, and surrounding areas.
Differentiate between damage caused by moles, voles, chipmunks, squirrels, and other animals.
Determine which tunnels are currently operational.
Figure out which tunnels are for eating and which are for traveling.
To determine which trap works best, measure the depth and width of traveling tunnels.
Determine which trap will work best based on the amount of moisture in the soil.
Set as many traps as necessary to catch the moles.
Continue to keep an eye on mole activity and trap until they have been successfully removed.
Skunk Removal Marne
Best Way Animal Removal uses the most effective and safest skunk control methods available when it comes to getting rid of skunks around homes. Trapping has proven to be the most effective method of skunk control. Our experts recommend cleaning up areas of the property such as woodpiles and food sources to help keep the skunks away and prevent future skunk control issues.
Even though skunk encounters are relatively common, this nuisance wildlife species should never be handled without a professional's assistance. Skunks spray when they are threatened, and the odor is difficult to remove and causes severe irritation to the skin and eyes. Professional wildlife specialists have the knowledge, tools, and training to solve skunk problems humanely and effectively, so calling in a wildlife specialist is essential for proper skunk removal.
Skunk Trapping Process
All of our wildlife removal services are done humanely and with the safety of both the homeowner and the animal in mind. The skunk trapping and relocation process include:
Best Way Animal Removal will send a skunk removal expert to your property to conduct an in-depth assessment of your skunk infestation.
The assessment will help the wildlife removal expert form an effective skunk control plan.
Live traps will be set near the skunks' den for the best odds of trapping success.
Once all the skunks are trapped, their nests are removed, and the skunks are relocated far from your home.
A final inspection will be performed to identify possible entry points the skunks were utilizing. Our animal removal professional will seal the exposed entry points.
Our wildlife control expert will inform you of exclusion and proofing work as well as repairs that need to be performed to prevent skunks from returning.
Marne, MI Raccoon Removal
Trained raccoon control professionals should always conduct raccoon removal. Raccoons typically invade attics to raise their young, and a mother raccoon will attack if she feels her babies are being threatened. The wildlife removal experts at Best Way Animal Removal have the experience and tools to humanely remove and relocate a family of raccoons from your attic.
The raccoon control & exclusion process includes the use of live traps that are designed to trap an entire family of raccoons. After all the raccoons are removed from the attic, our wildlife removal experts will identify the raccoons' entry points and seal them to prevent future infestations.
Raccoon Trapping Process
A wildlife control expert is dispatched to your property and conducts a thorough inspection. The inspection will gather vital removal information such as how many raccoons, how the raccoons have gained entry, and the extent of the raccoon damage.
We will form a strategic trapping and relocation plan specific to your property.
Humane traps are set in high traffic raccoon areas.
Once all of the raccoons are trapped, they are removed from the home.
Entry points are sealed to ensure further infestations don't occur.
Our wildlife removal technician will advise on what repairs, raccoon proofing and decontamination services are needed.
Opossum Removal Marne
Best Way Animal Removal can have your opossum infestation removed in just a few simple steps.
The first step in any quality wildlife control process is a thorough inspection. An inspection will provide wildlife removal professionals with the information needed to form an opossum control and prevention plan.
Once we determine how and why the animals are in your home, we can begin setting humane traps. Opossums are the easiest animals to catch out of all the animals we deal with, but relocating them afterward is something homeowners would have trouble with. Michigan's state laws are strict on removing animals and should always be followed to ensure the animals' safety.
The next step in the process is critter eviction and food source control. Opossums are migratory animals by nature, and if they stay for more than a few days, there is a more serious issue that needs to be addressed. Best Way's wildlife removal technicians will identify the food source attracting these animals and search for other pests that have followed the opossum inside (often rats/mice).
Finally, the attic and insulation are restored to complete the process. Like all other attic invaders, opossums cause insulation damage by walking through it and pooping on it. They also frequently die in the attic, burying themselves in the insulation. All of this activity degrades your insulation and emits odors that you don't want in your attic. Our attic restoration service will restore your attic space to its original condition, if not better.
Service Areas
Bat Exclusion
We provide humane bat exclusion and offer guaranteed bat proofing services.
Animal Trapping
We have years of wildlife control experience, we offer professional & Humane Animal Removal.
Cleanup & Damage Repair
We can handle any and all nesting and feces cleanup along with all animal damage repairs.
Wildlife Exclusion
We permanently keep nuisance animals out of your home for good!
Professional Wildlife Control
Hours
24 Hours A Day
7 Days A Week
Address
6049 145th Ave
Holland, MI 49423