East Grand Rapids, MI
East Grand Rapids is a city in Kent County, Michigan, United States. It is situated on the shores of Reeds Lake in the Grand Rapids metropolitan area. The city had a population of 10,694 people, according to the 2010 census.
The city is 3.40 square miles in size, with 2.93 square miles of land and 0.47 square miles of water. The majority of the water area is made up of Reeds Lake and Fisk Lake.
History Of East Grand Rapids Michigan
In the early 1830s, the Reed family traveled from New York State and founded what is known today as East Grand Rapids. It is one of Kent County's oldest suburbs, having been part of Paris Township for many years. In 1891, residents voted to create the Village of East Grand Rapids. In 1926, when the population was around 1,300, the village was incorporated into a home-rule city.
By the 1870s, the Reeds Lake area had become a popular summertime day trip destination for Grand Rapids residents and the surrounding areas, who traveled a long distance to spend the day picnicking, boating, swimming, or just relaxing at the lake. Viewers could attend a play or listen to a popular orchestra of the day at the lakeside pavilion on Reeds Lake's west shore.
Those who wanted to get to Reeds Lake used to do so on foot, by stagecoach, or by horse and buggy. Horse-drawn carriages became available in the middle of the 1870s. Passengers would board in downtown Grand Rapids, transfer to the Grand Rapids and Reeds Lake Railway on Sherman Street Southeast, and walk down Wealthy Street to the lake. By 1877, horse-drawn carriages had been replaced by steam locomotives. In the early 1890s, electric streetcars were introduced. In 1935, buses took their place as a mode of transportation. Residents from nearby cities were also brought to Reeds Lake by Interurban.
Arts & Entertainment In East Grand Rapids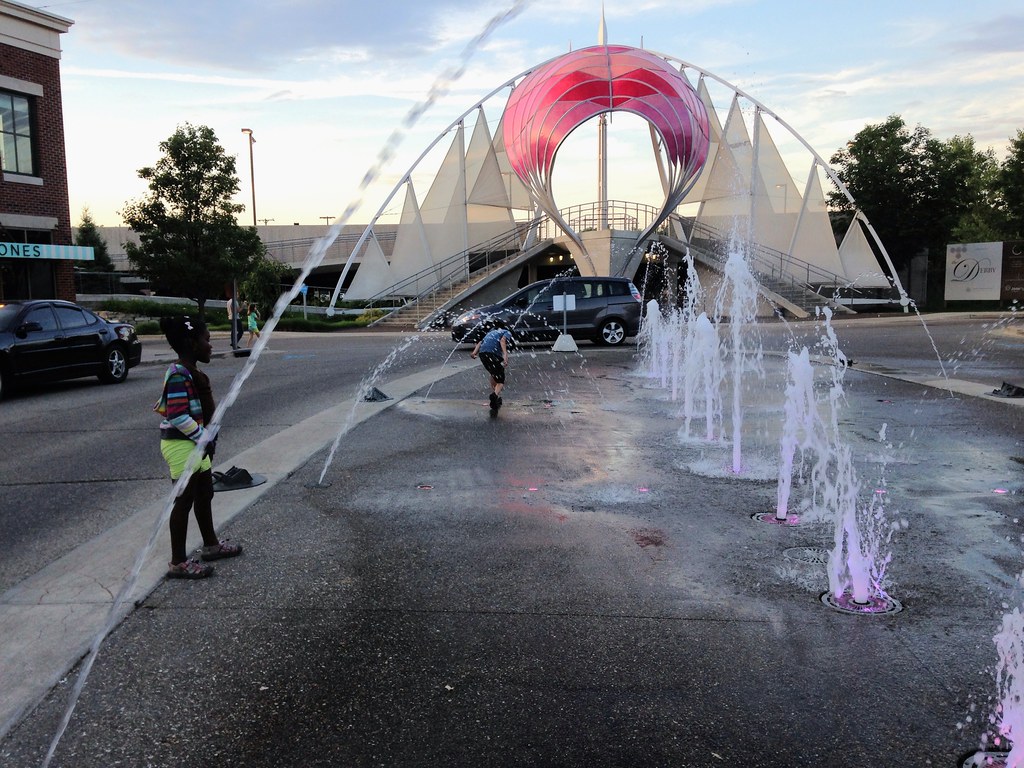 From movies in the park to art fairs, book sales, concerts, and a daylong Fourth of July celebration, there's always something to do in East Grand Rapids.
There are ten city parks within the city limits with playgrounds, hiking and biking trails, and relaxing green spaces. The paved 4.2-mile Reeds Lake Trail connects many parks and school facilities by passing through natural wooded areas, wetlands, and residential areas.
A 425-foot floating boardwalk system in Waterfront Park provides a unique perspective on Reeds Lake. Other Art pieces include the Regatta and the President Ford statue.
The Regatta is a colorful, 40-foot-tall fiberglass sculpture that resembles a ship's sails. A bronze President Gerald R. Ford statue stands in the East Grand Rapids City Center. It's a one-third scale replica of the statue that once stood in the US Capitol's rotunda.
East Grand Rapids, MI Demographics
Population: 11,956
People Under The Age Of 18: 31.5%
People Over Age Of 65: 12.1%
Average Home Value: $374,000
Persons Per Household: 2.88
Average Work Commute: 21.5 min
Education In East Grand Rapids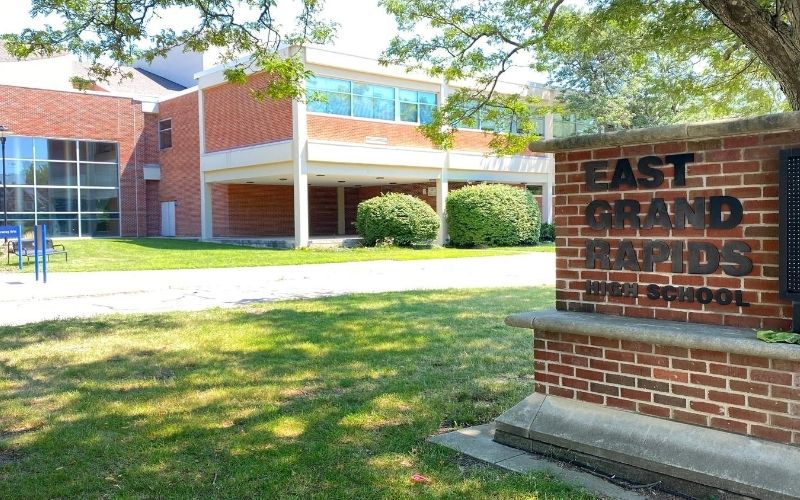 The East Grand Rapids public school system is made available to all residents. Schools of this city include:
Wealthy Elementary
East Grand Rapids Middle School
Breton Downs Elementary
Lakeside Elementary
East Grand Rapids High School
East Grand Rapids' Media Outlets
Television news channels available in East Grand Rapids include:
WOOD TV 8 (NBC)
WWMT 3 (CBS)
WXSP 15 (ABC/NBC)
WZZM 13 (ABC)
WOTV 4 (ABC)
WGVU 35 (PBS)
WXMI 17 (FOX)
Online and print newspapers specific to the city of East Grand Rapids include:
Grand Rapids Press
MiBiz West
Grand Rapids Business Journal
Business Review Western Michigan
Advance Newspapers
Grand Rapids Times
Athletics In East Grand Rapids, Michigan
While East Grand Rapids is not home to any professional sports teams, high school and youth sports fill that void. The community rallies around their local teams and East Grand Rapids High School has won over 120 state championships.