Are you looking for Holland wildlife control and removal services? When it comes to animals in the attic, nuisance wildlife outside of your home or any other wildlife issue we can help. We provide professional solutions from animal trapping and wildlife exclusion to damage repair services and feces/ guano clean up.
Best Way Animal Removal is based in Holland, Michigan and serves the needs of residents and business owners in West Michigan for all your wildlife animal control & removal needs in Ottawa County.
Our services include identification of your wildlife guest, removal (including dead animal removal), repair of damages, odor removal, and re-entry prevention. We use plastic box traps to humanely remove pests like moles, bats, raccoons, skunks, opossums, squirrels, chipmunks, mice, rats, wood chucks, and other nuisance animals.
Best Way Animal Removal is owned & operated by Jack Waterway who has been an avid trapper since 1975.
Are you looking for Holland mole control and trapping services? When it comes to moles destroying your lawn, we specialize in fast and extremely effective solutions. Our professional solutions aim to minimize yard damage in a quick and more importantly, safe manner. Moles will create costly damages if they make their way into your lawn. They can burrow the length of a football field in one day, searching for food, thanks to their large front hands and claws. Your grass will suffer from unsightly tunnels and root damage as a result of this.
Best Way Animal Removal has decades of experience performing mole control in Holland and can get rid of the moles in your yard safely and effectively. Getting the population under control by removing as many moles as possible to extract the breeding pair is the key to successful mole removal.
Best Way employs humane mole removal strategies that are tailored around offering the most cost-effective method for the species of mole, and the extent of the damage. We also like to educate homeowners on how to make their property less appealing to moles as part of our service. The mole control experts at Best Way are ready to begin removing moles from your property.
Are you looking for professional Holland raccoon removal services? Raccoons in an attic can be a nightmare for homeowners. Raccoons crush attic insulation, leave large piles of feces inside the home along with urine that will destroy drywall, and they also present health risks from rabies to raccoon roundworm. If you have raccoons in the attic, we can help!
Raccoons are not particular about their habitat or the fact they might be living in a structure designed for humans.  Raccoons have shown the ability to adapt to urban or suburban settings and commonly build dens inside homes & buildings.  Raccoons only need a small opening or gap and will sometimes chew their way through openings in your fascia boards.  They are masters at locating rotted wood and busting through the weakness. As with bats, raccoons are primarily nocturnal critters and are on the prowl at night.
Problems With Heating And Cooling (Caused By Damaged Insulation)
Soffit Or Fascia Boards Have Been Damaged
Ceiling Stains
Holes Visible On The Exterior Of The Roof
Unusual Odors Coming From The Attic
Electrical Issues (Caused By Chewed Wires)
Urine And Feces In The Attic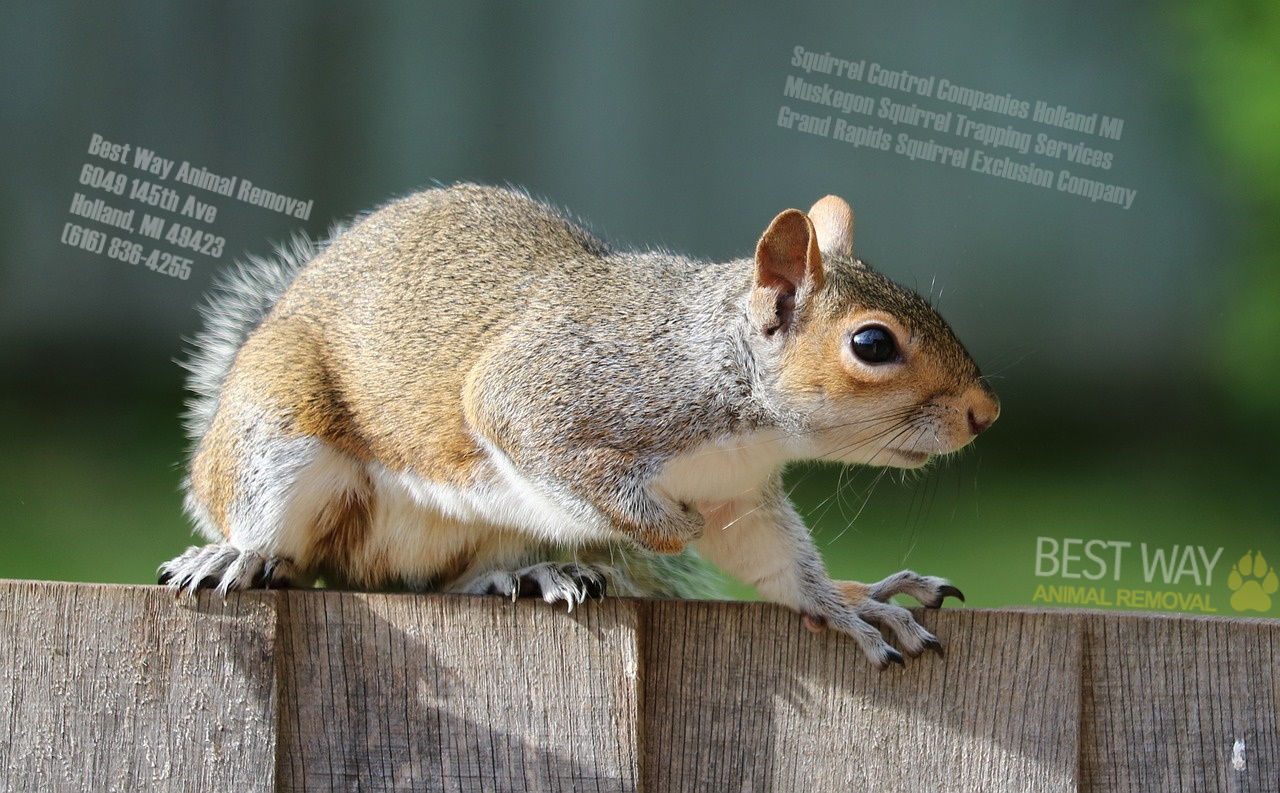 Do you need Holland squirrel removal for squirrels in the attic? All of your nuisance wild animal needs can be met by Best Way Animal Removal. We specialize in live squirrel removal, control, and prevention on residential homes, condos, warehouses, and all other commercial properties in Holland, Michigan. Our wildlife control experts can also decontaminate and repair damaged areas that have been affected by the squirrel infestation.
Getting rid of squirrels in Holland Michigan is only the first step in resolving a problem with those pesky rodents in your attic. The only long-term solution to keeping squirrels out of your house or attic is squirrel exclusion or squirrel-proof your home. If squirrels were removed from the home without exclusion, new squirrels and possibly other rodents such as rats and mice could enter and cause problems in the future. We also offer squirrel damage repair and squirrel droppings cleanup. Squirrels are nuisance wildlife, not pests, and must be removed using non-toxic methods such as trapping and exclusion.
Squirrel exclusion is a job that should be left to the experts. Our team has all of the necessary experience and training to ensure that the job is completed following Michigan and federal regulations. We also offer Pest Control For Squirrels.
Are you looking for Holland bat removal and exclusion services? When it comes to bats in the attic, we are trained and experienced in humane and fast removal. Our professionals understand the importance of bats and their role in natural pest control, so we make bats are not touched or harmed in the removal process.
Why get rid of bats in Holland, MI? Bats are nature's version of pest control and one bat can consume up to 1,000 mosquitoes in an hour. Unfortunately, bats will sometimes take up residence in your attic and only need a 1/4″ opening in a gable vent, a roof opening, or even an area where caulking was not applied properly.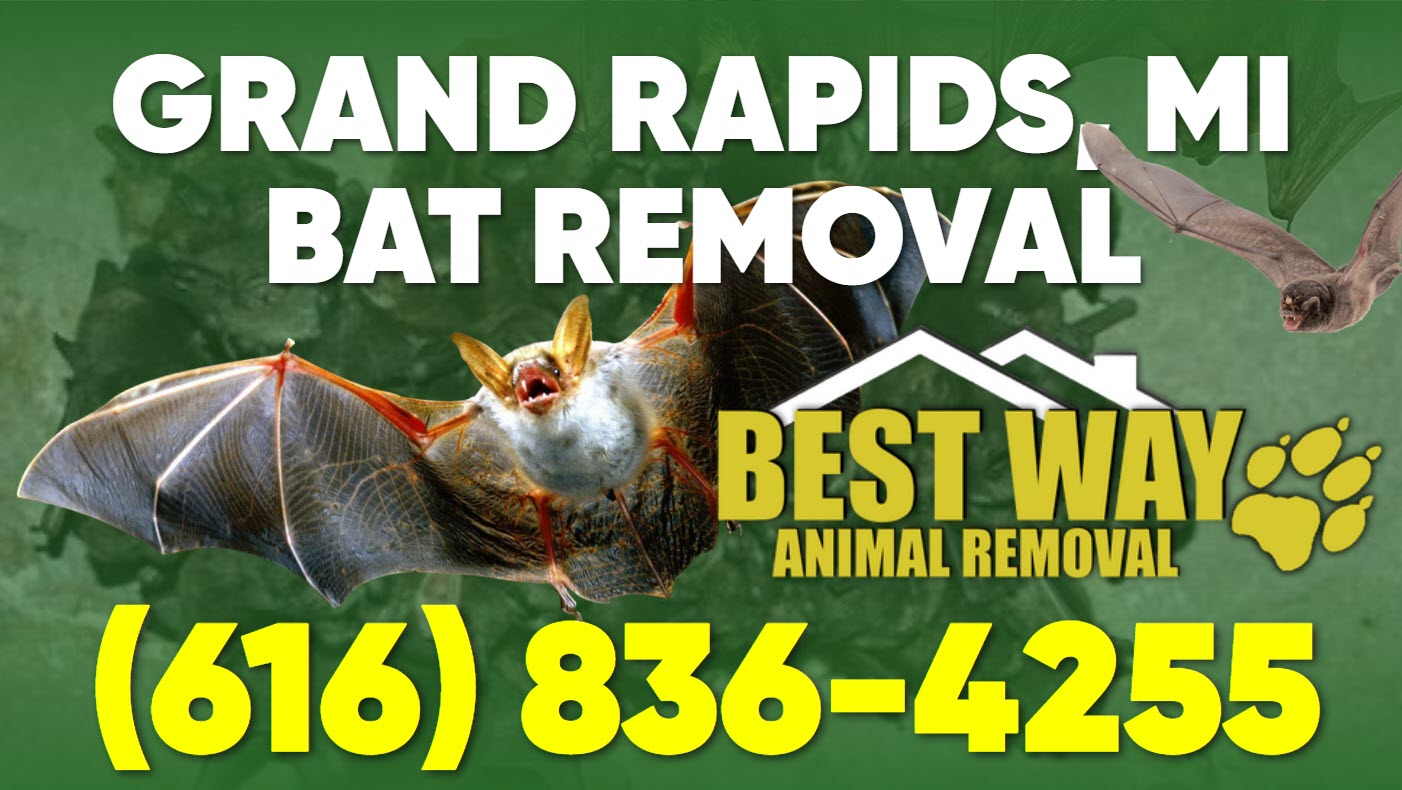 Although bats are extremely beneficial, they also present the danger of rabies and histoplasmosis. Both of which can affect humans and pets. If you hear scratching in the ceiling, clicking noises in the attic, or see droppings around your home, there's a good chance you have bats. If there is bat droppings in the attic, you definitely have bats. Call us today and we'll start the process to "get rid of your bats".
Best Way Animal Removal
6049 145th Ave
Holland, MI 49423
(616) 836-4255
https://www.youtube.com/channel/UCG4JEFoxCy16DDyoFZe4EIw
https://www.instagram.com/bestwayanimalremoval/
https://www.facebook.com/bestwayanimalremoval
https://www.bbb.org/us/mi/holland/profile/pest-control/best-way-animal-removal-0372-38224327